The epidemic prevention and control situation has improved recently, with most parts of the country in low-risk areas. On May 8, the State Council issued the "Guiding Opinions on Doing a Good Job in the Normalization Prevention and Control of New Coronary Pneumonia Epidemic Situation ", requiring that in accordance with relevant technical guidelines and under the premise of implementing prevention and control measures, various necessary conferences and exhibition activities can be held.
The exhibition is an important bridge for the exchange of resources and trade between industries, and one of the shortcuts to quickly obtain information and seize market opportunities. As the domestic epidemic prevention and control situation improves, the industry will usher in a recovery. Organizing committee of CITPE announced that Guangzhou International Textile Printing Industrial Technology Exhibition will be held from August 4th to 6th in Pazhou Poly World Trade Expo. Please look forward to it!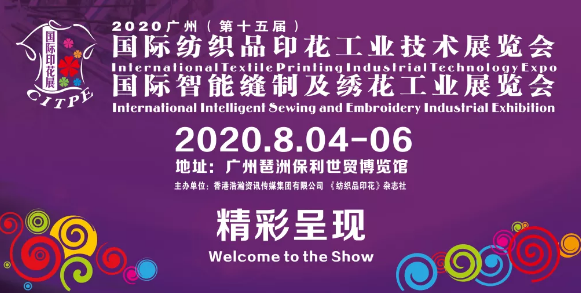 As the first highly influential professional textile printing exhibition in China, CITPE has been deeply immersed in the South China market for 14 years. After years of precipitation and accumulation, it has become a "wide range" "high popularity" and "deep influence" Industry event. Every year, it attracts purchasing groups and visitors from all over the world to visit the exhibition. The number of visitors is up to 30,000, and the popularity of the scene is hot.
Previously, after the exhibition was postponed, the organizing committee actively adjusted the plan to strengthen the contact with exhibitors and provide good service. Now the time of the 2020CITPE has been officially determined, and the organizing committee is stepping up marketing efforts to invite visitors and assist the exhibitors in the preparation and follow-up work to ensure the maximum effect of the exhibition.
We will do our best to create a safe, healthy and effective industry event. From August 4th to 6th, 2020, let us meet at the Pazhou Poly World Trade Expo Hall, gather together and seek business opportunities!
Here are some pictures showing the wonderful exhibition of last year!
Exhibition Time


Special Design Booth Construction Time: August 2nd-3rd, 2020
Standard Booth Construction Time: August 3rd, 2020
Exhibiting Time: August 4th-6th, 2020
Showover Time: August 6th, 2020, 15:00 P.M.
Hotline
Mrs Lee:13535036850
Mrs Tan: 13640216066
Mr.Chen:18218678836
Mr.Luo:18702018856
Mr.Su:13817048301